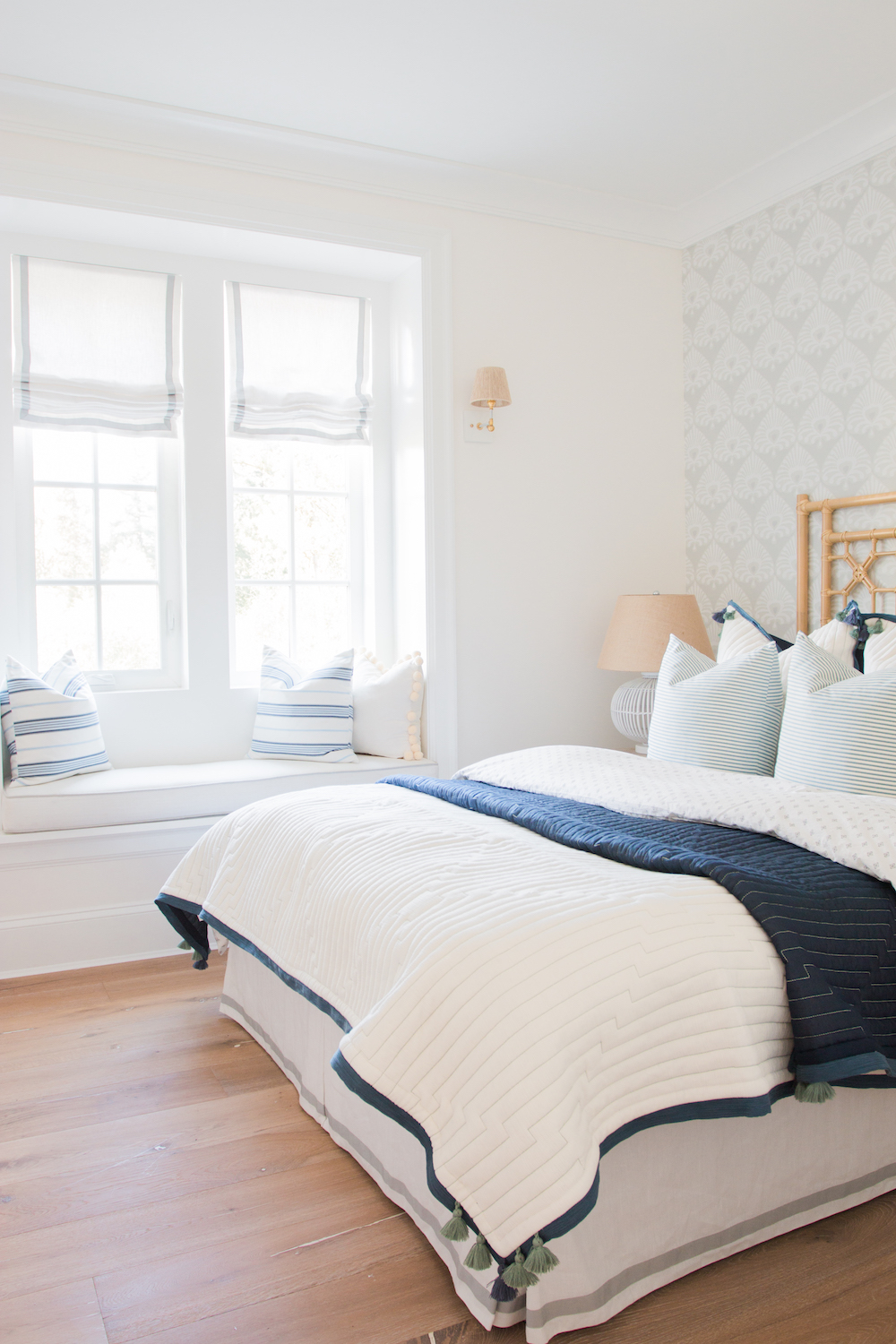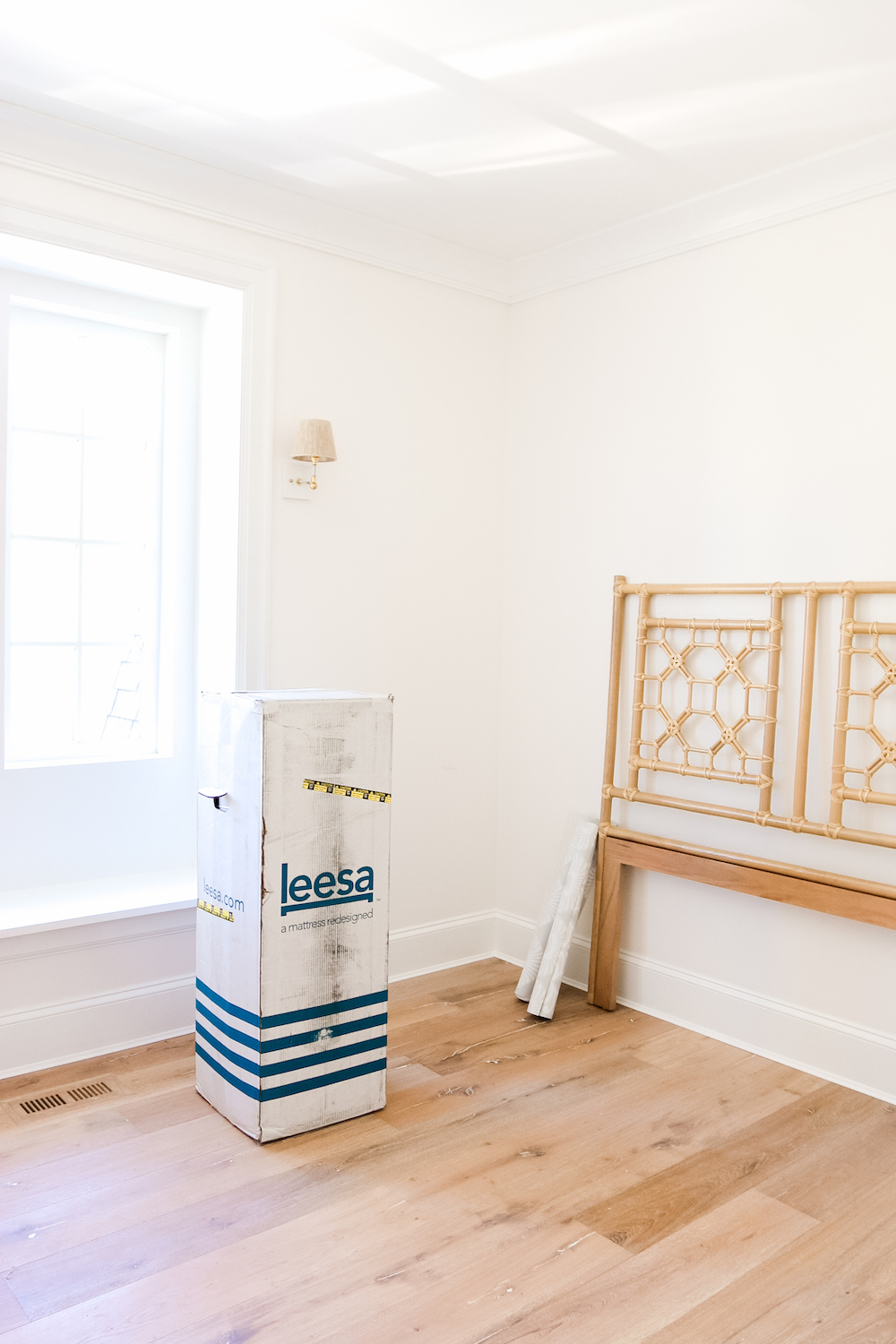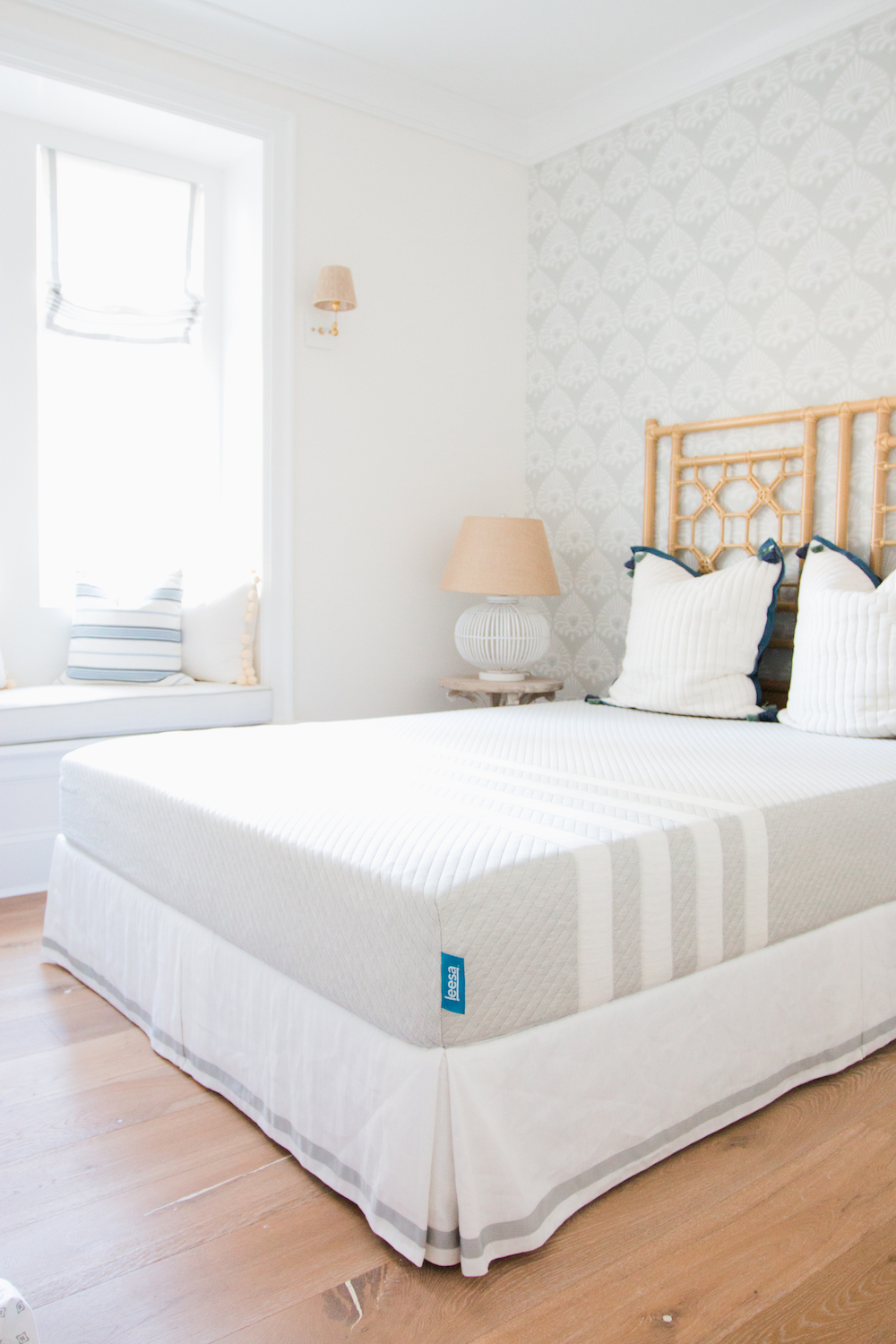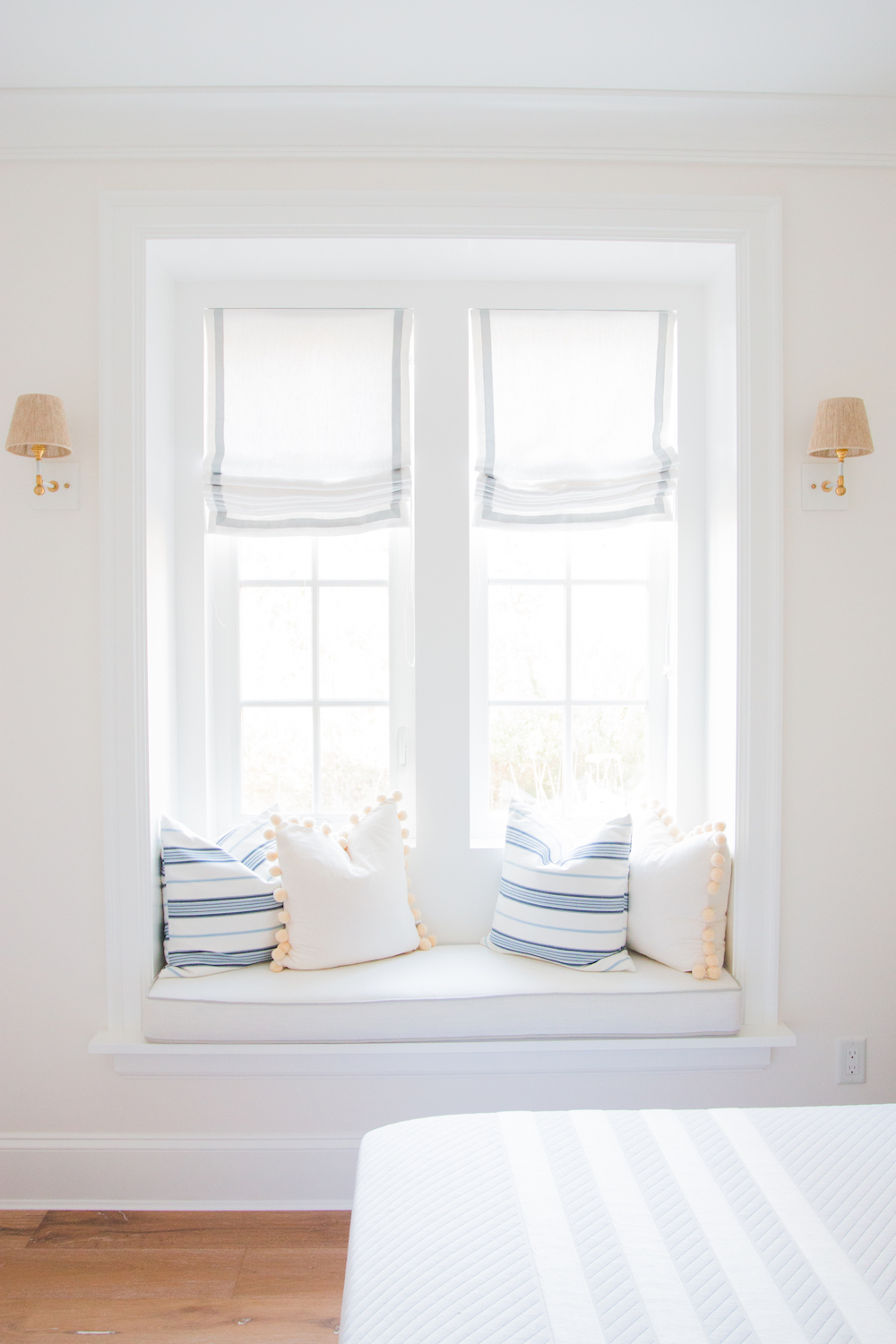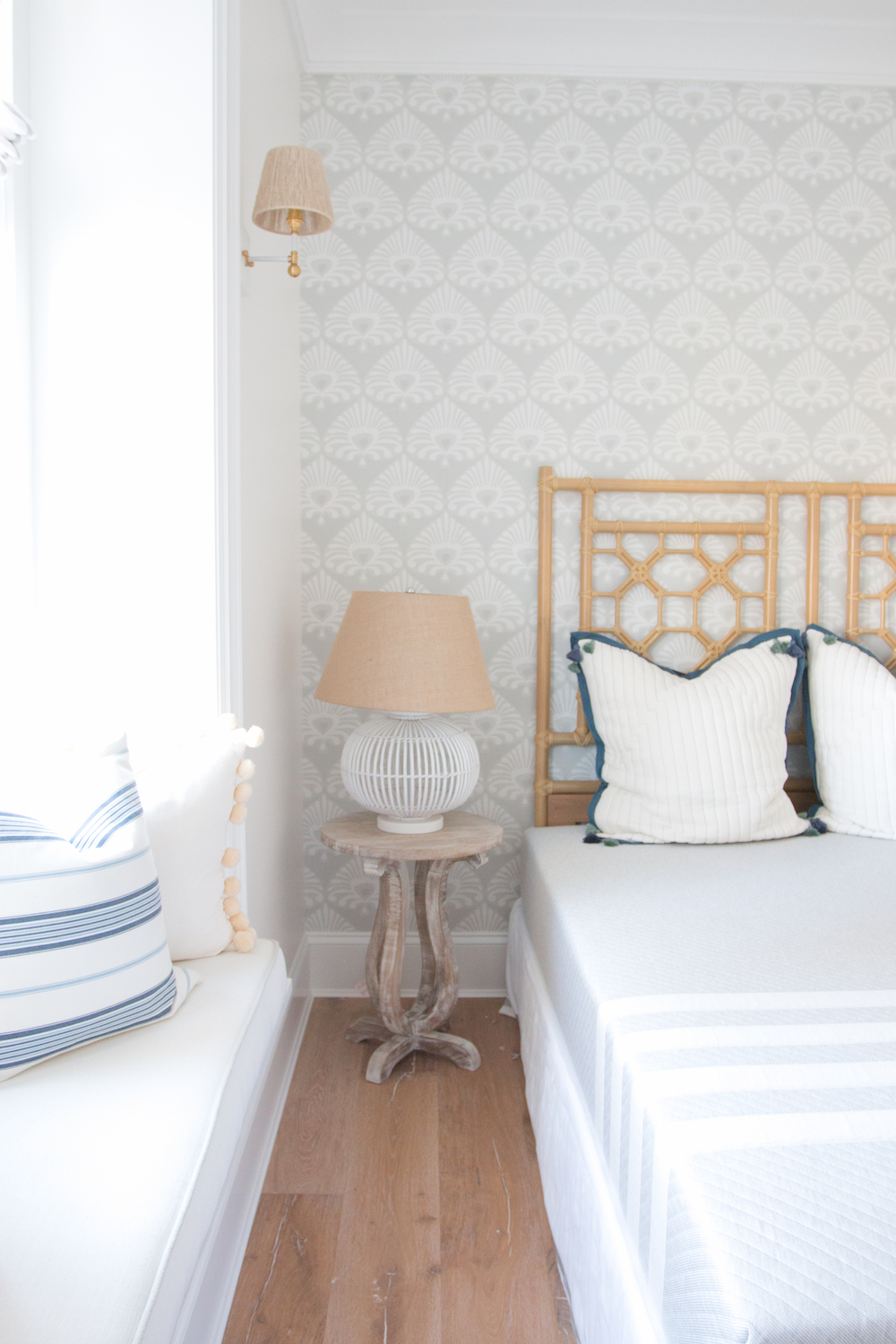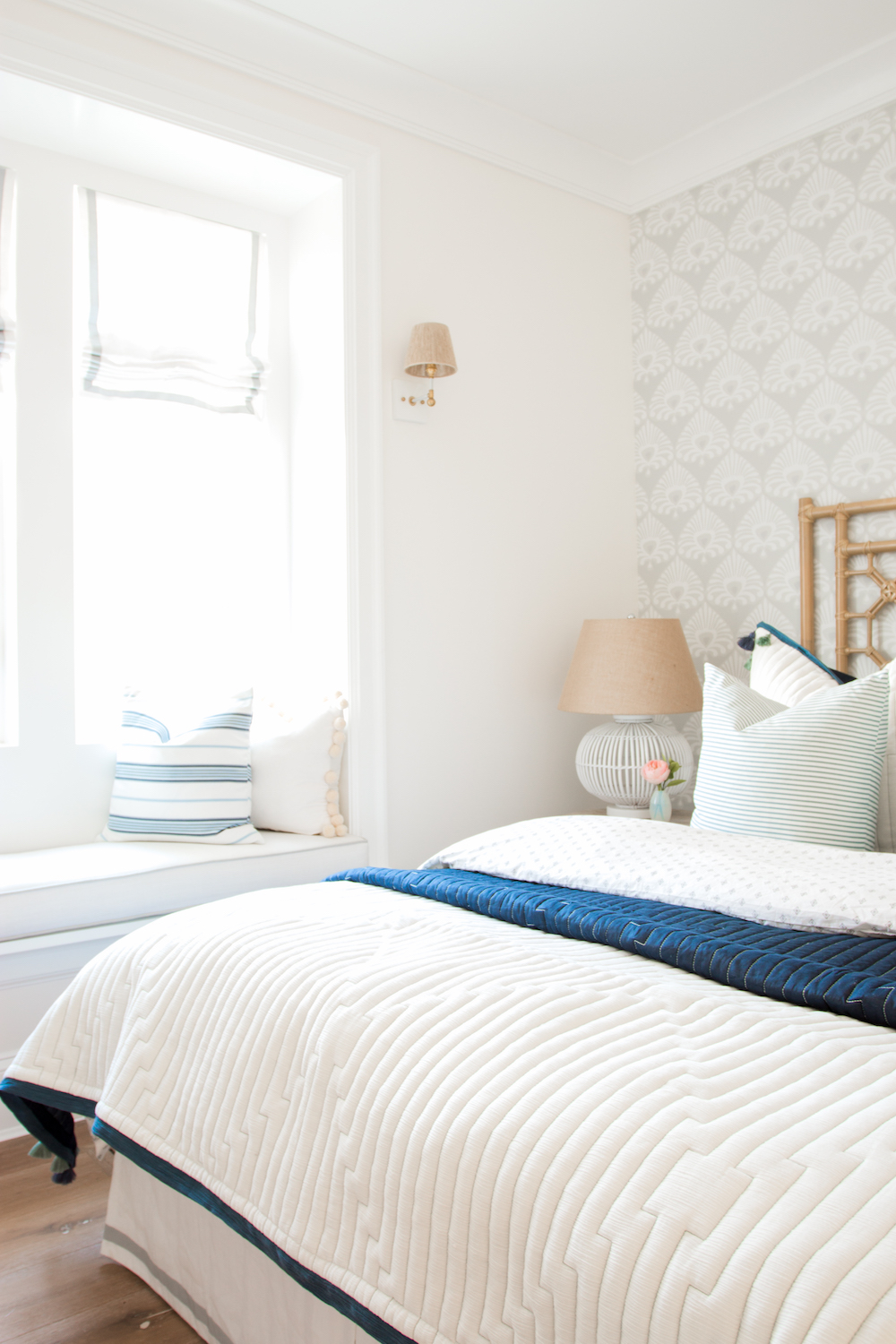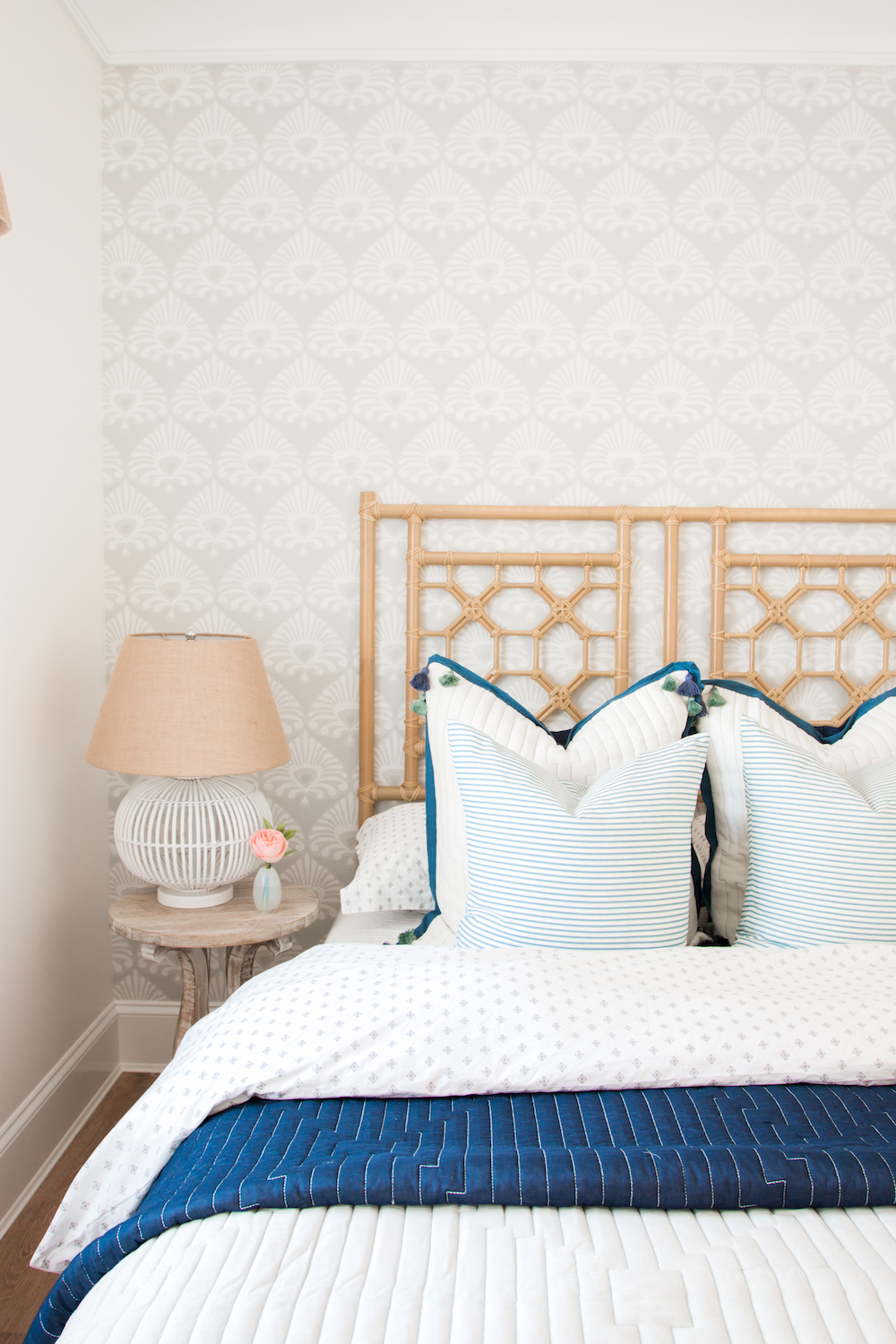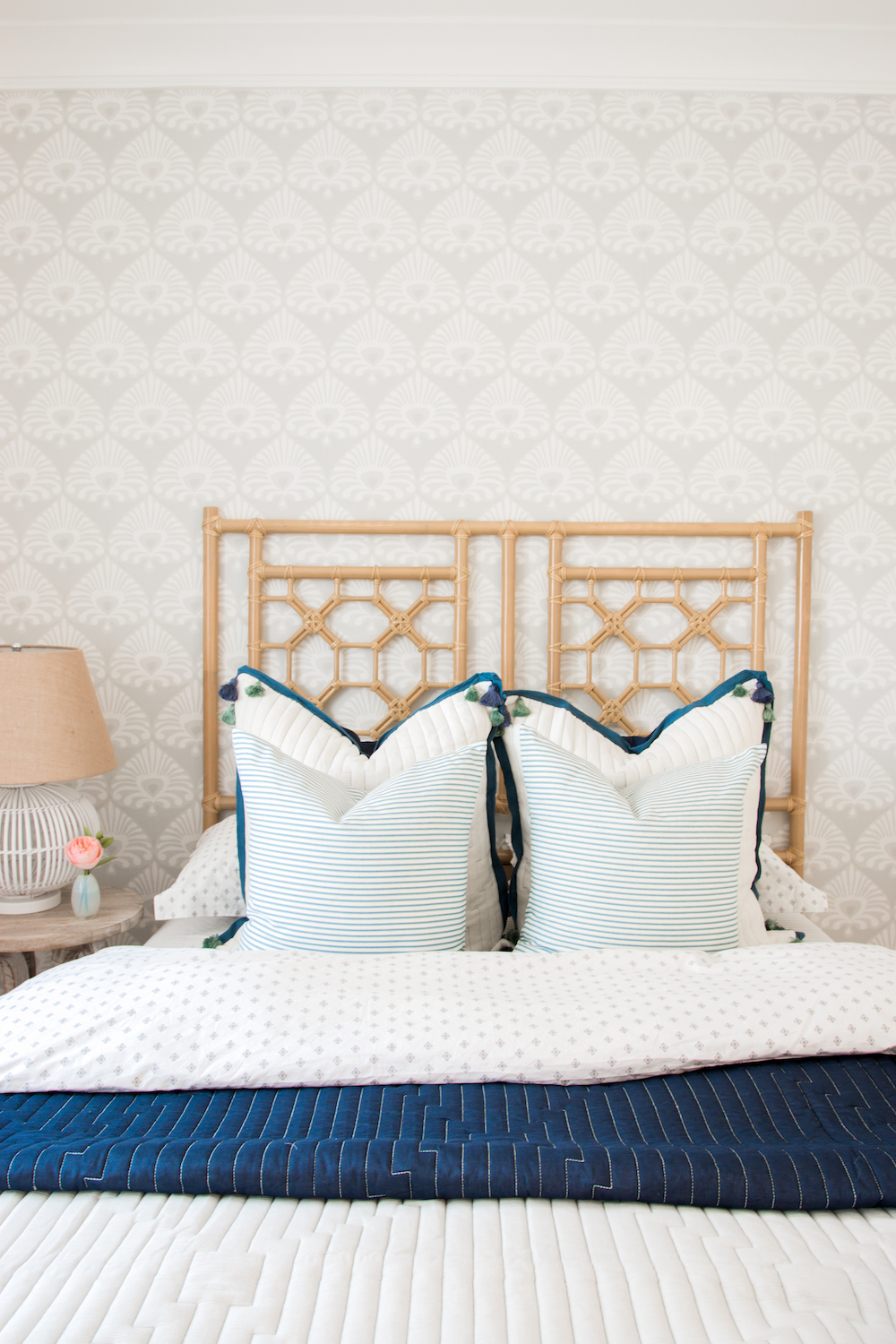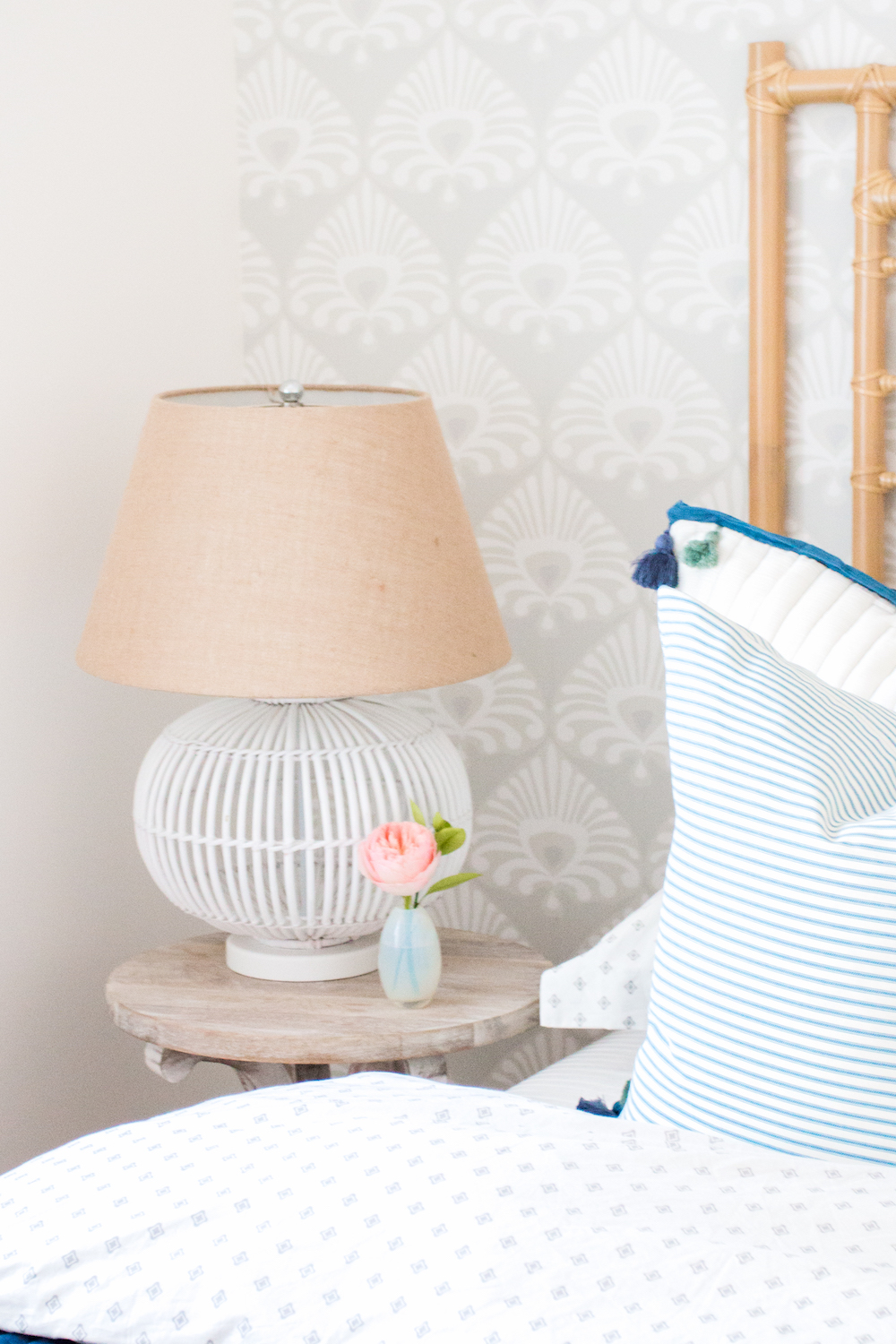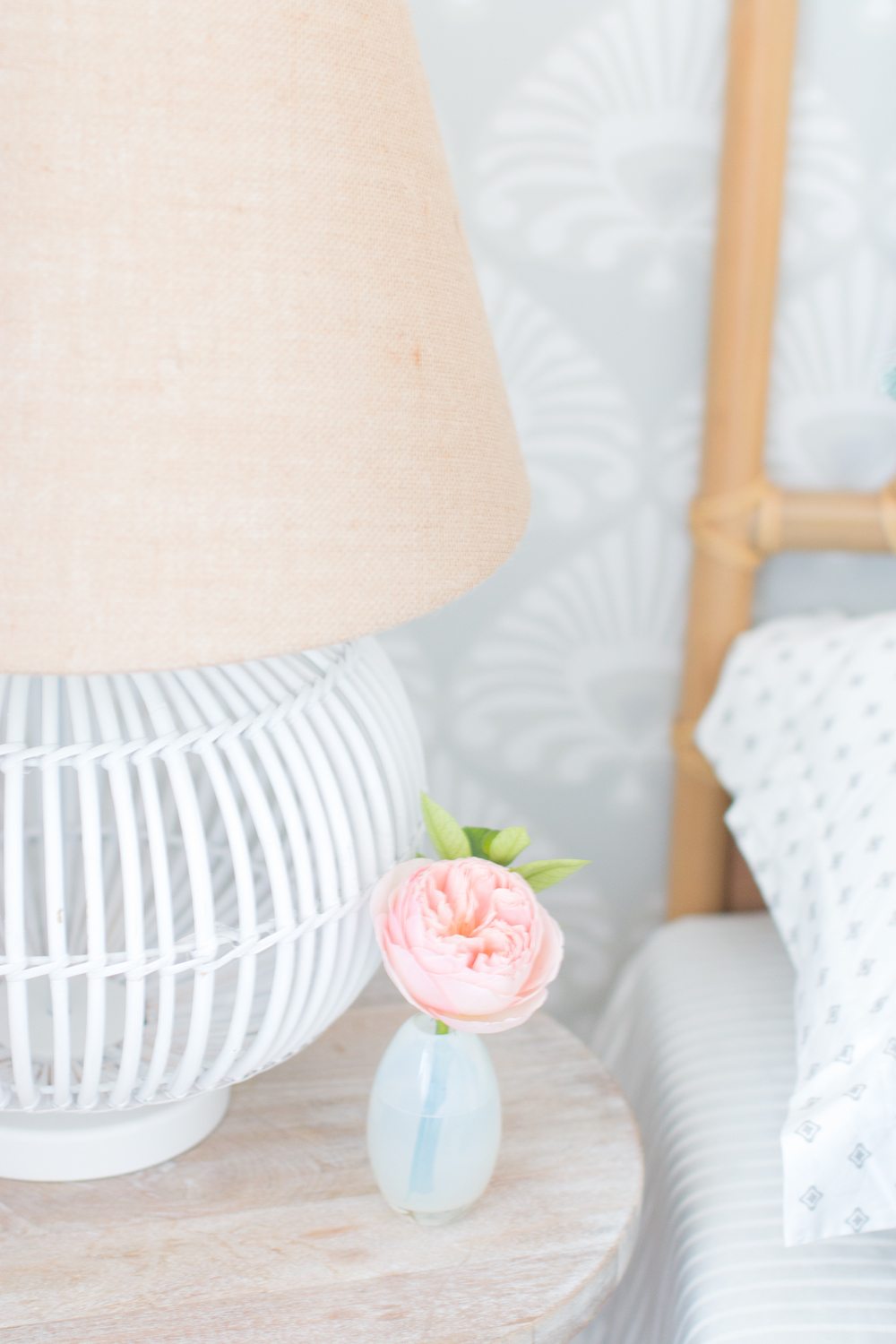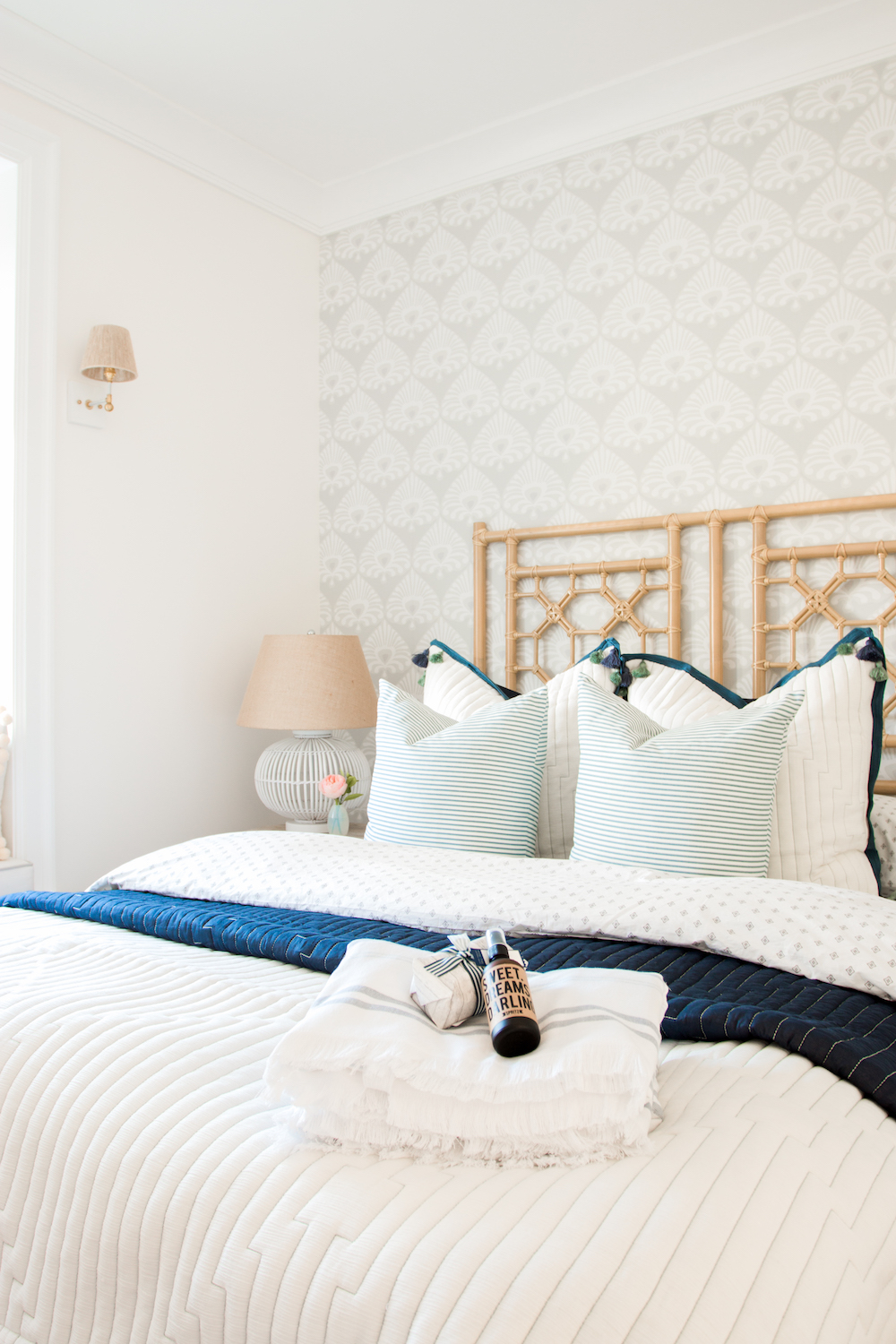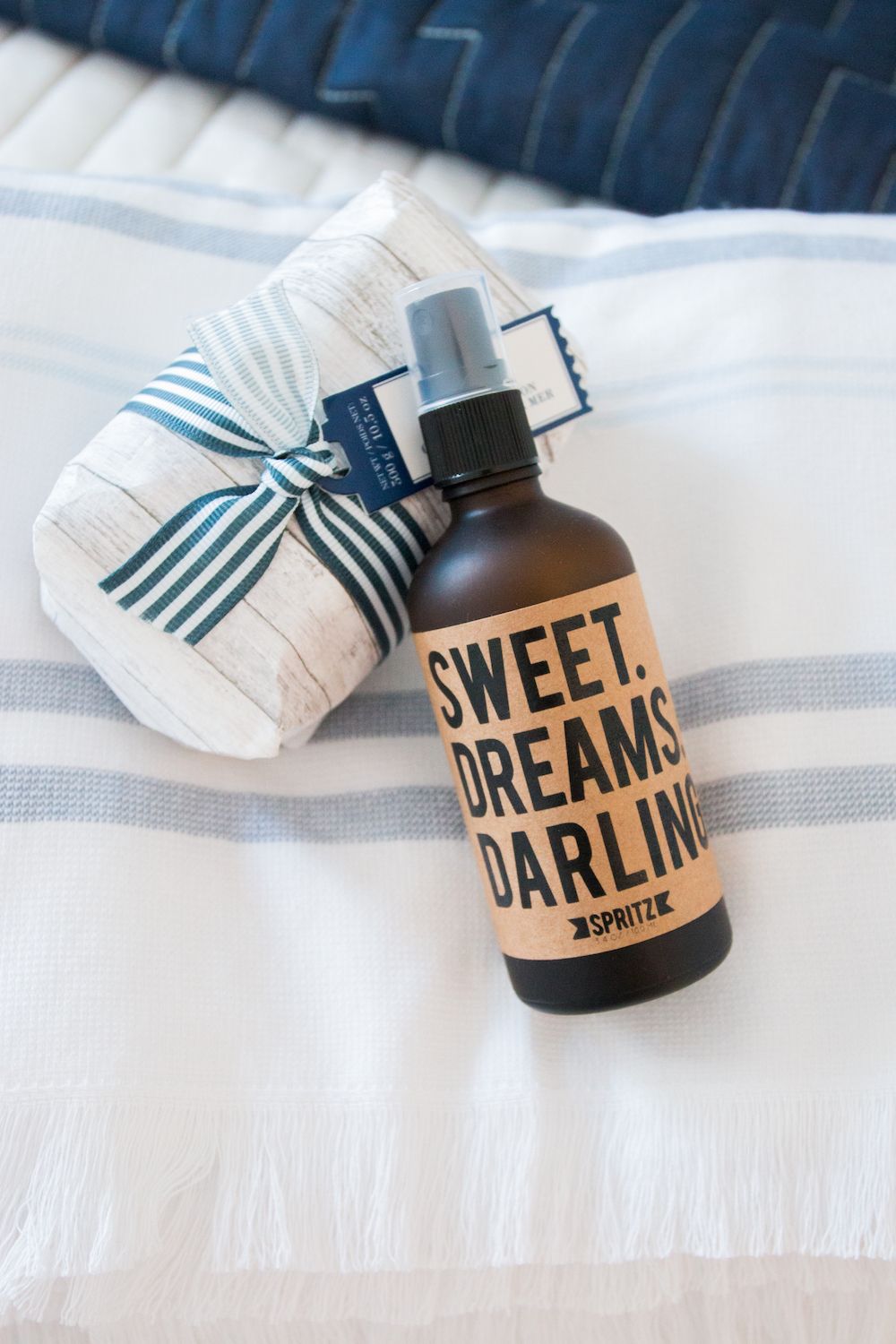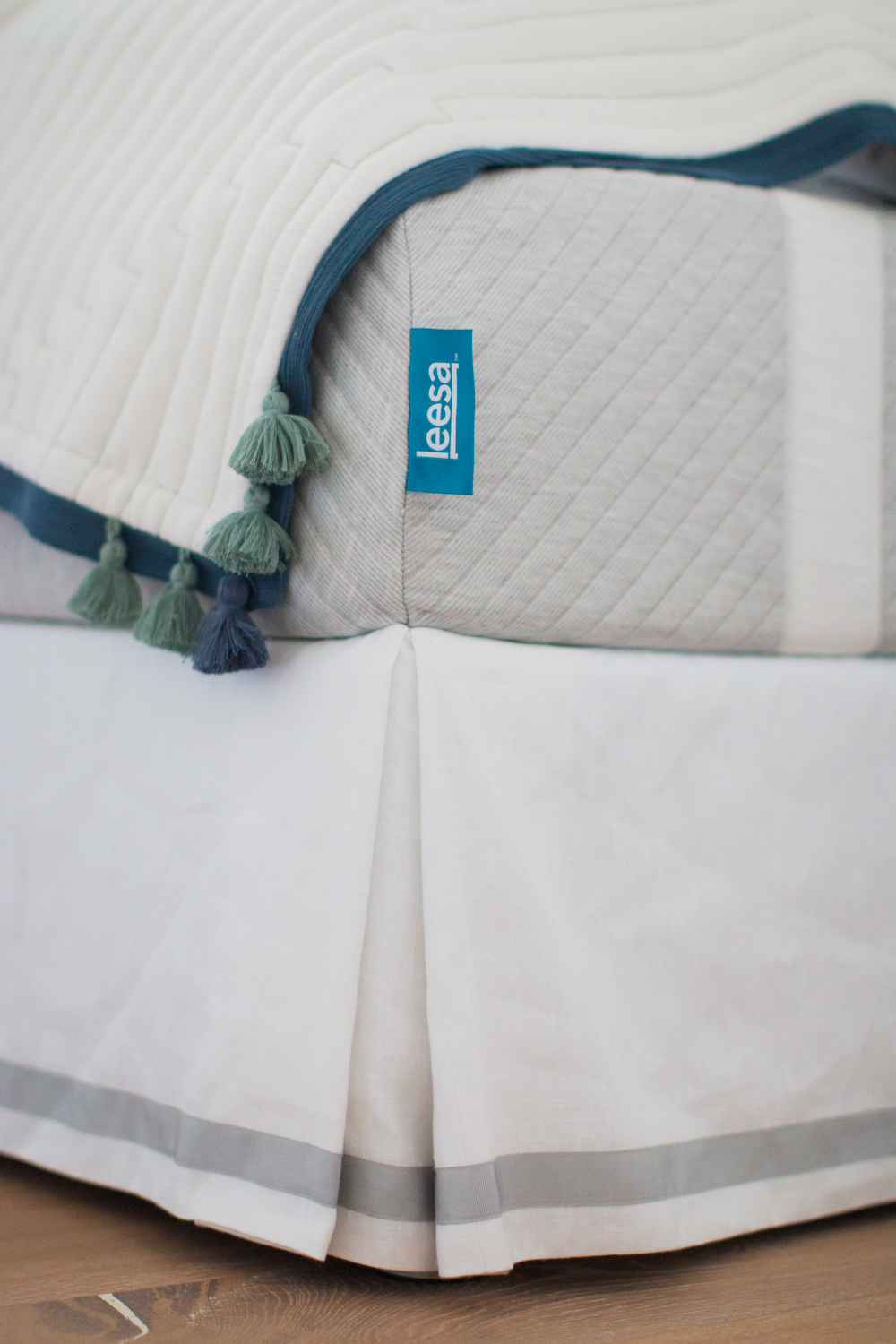 | Leesa Mattress | Headboard | Bedding | Euro Shams | Wallpaper | Blue Striped Pillows | Light sconces | Side-table | Ralph Lauren Lamp |
| Roman Blinds, Bench Cushion, Bedskirt Q. Design Centre |
I'm so excited to share our guest room with you guys! This room was originally going to be my office space. However I noticed that I spent so much time downstairs with the kids during the day, I found myself doing all my work at the kitchen table or our little kitchen desk nook. Since we do have an office at the front of the house that was going to be for Troy, we came to the conclusion to build a shared office space. For now that's still on the list of things to do… one thing at a time! That all being said we quickly realized that we need a guest room instead. I was holding off on this room, but when Leesa Mattress contacted me asking if I was interested in trying their mattress I instantly said yes, with the guest bedroom in mind.
In terms of design, I knew I wanted to take the room in a costal direction.  Especially after finding this headboard and having my eye on this gorgeous Serena & Lily wallpaper. I love how everything came together. I'm even more in love with the matching bench cushion, roman blinds and bedskirt custom made my Q. Design Centre. It's so hard to match those three, so having them made was the best solution. They look amazing, and really grounded the design of the room! Okay now on to this mattress in a box…
Yes you saw it above in the photo, a mattress in a box!!! Leesa as a company has totally revamped the mattress game in their actual products as well as their whole shopping experience.  The whole process is super simple and easy!  Their mattresses have a Universal Adaptive Feel that will adapt to all body shapes and sizes.  What's almost even better than the actual mattress is the whole shopping and delivery process that goes along with it!  Leesa mattresses are only offered online, which lets them offer lower prices then you would see in store for similar products.  They then compress the mattress and ship it right to your house!  What I also love about this company is how customer friendly they are and how they offer their products at 100% risk free.  All of the mattresses have a 100 night in-home trial and they have a full refund policy if there's something you don't like.  And if a good night's sleep isn't enough to feel good about going with Leesa, their social impact program will convince you.  As a company they donate mattresses, plant trees and also suppourt their local community.  All around a great experience!
I know that buying a mattress online can seem a bit scary at first, not trying it out and all. But I can tell you this much, not only did I love my sleep on it. My mom spent the night, and loved it so much she bought one the very next day! Now if that doesn't spell out "best sleep ever", then I don't know what would! If you're in the market for an affordable mattress, try it out, maybe you'll love it too!
Thank your Leesa for sponsoring this post. All comments, opinions and styling are my own. 
-SHOP THE POST-